The COVID-19 crisis has created a temporary new normal across the U.S. and the world. During this time, people are slowing down and finding ways to not only stay safe, but are spending quality time with their families at home. There is no doubt that one of the best ways to relax and enjoy the outdoors these days is in your own backyard.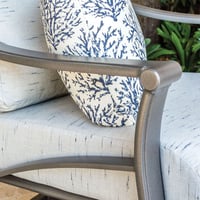 Today, a growing number of outdoor living spaces are becoming as luxurious and styled as any room in your home  and with many of the same comforts. One of the biggest drivers of this trend is advances in performance materials that can stand up to the weather. Commercial grade outdoor furniture with hi-performance powder coating makes furniture resistant to rust and corrosion; ultra-plush outdoor seating has become a reality with durable outdoor cushions like Tropitone's RelaxPlus™ comfort foam cushions; and realistic faux concrete tables have made their way into dining areas. Tropitone's Matrix tables, made from a special composite material, offer the perfect combination of beauty and durability to emulate honed concrete tables. Accents like LED outdoor lighting and fire pits add the finishing touches. The most significant factor leading the charge, by far, are performance fabrics that resist fading, wear, and are easy to clean. As fabric manufacturers continue to raise the bar with a growing selection of indoor-inspired textures, patterns and colors, there really is no limit to what can be done.
A decade ago, people didn't have the choice of outdoor fabrics that were soft, luxurious and designed with the same level of style as their indoor only counterparts—that has changed. Classic indoor weaves and textures like soft chenille, jacquards, twills and cool linens are finding a place on outdoor sofas, love seats, chairs and as accents. Color, too, is showing up everywhere. Shades of red, green, yellow and blue are taking a front seat alongside traditional neutrals. When styled together, today's outdoor fabrics add depth and personality that blurs the line between beautiful, livable indoor and outdoor spaces.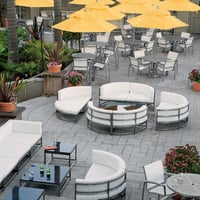 Hotels, resorts, and restaurants are crossing the boundaries between the indoors and outdoors and taking full advantage of the versatility that outdoor fabric and décor bring to mixed use spaces, pools decks, patios, game rooms and gardens. Tropitone's senior commercial sales manager, Kristi George, explains that that fabrics made by mills like Glen Raven (for Sunbrella) and Serge Ferrari (for sling) have a reputation for extreme durability, which means that performance and style go hand in hand—something that is a must in high-traffic areas. Resorts are expanding beyond luxurious pools to outdoor transitional spaces to offer more amenities and attract more guests. Restaurants are upgrading and adding outdoor social areas that give guests a cool, stylish place to relax. And this is only the beginning because businesses are starting to see their investment pay off with new customers and increased sales.
Outdoor fabrics are also bringing an innovative spirit and new level of creativity to professional designers who are looking to curate one-of-a-kind looks for their clients. They blend seamlessly through the interior and exterior of a home and shine as a unifying visual center. For design ideas and inspiration, checkout Tropitone's INSPIRE guide. INSPIRE combines textures, patterns and colors into themed groupings to excite the designer in you!
Please Contact Wayne at Patio World with any questions, ideas, or quotes.
CREDIT:  Tropitone