Each new year brings new trends. At Tropitone, we don't make the trendiest furniture for today and gone tomorrow. We manufacture quality furniture with style that will stand the test of time. Our designs always have you and your investment in mind. That being said, our latest designs have built upon the building blocks of years of experience and excellent products. Based on the popularity of woven furniture and the flexibility modular seating offers, we have created collections that represent the current trends, but are designed to be timeless. Our newest collections have molded the building blocks together and developed one concept to utilize: mixed mate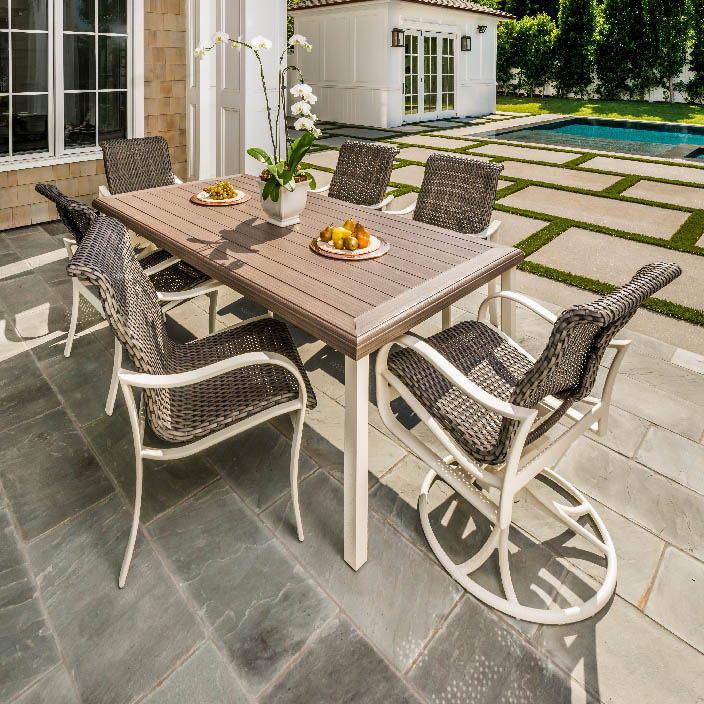 rials.
We have effectively combined aluminum, our staple, with weaves, slings, or cushions and marine grade polymer. Brazo is the epitome of mixed materials by showcasing up to four different materials to create beautiful pieces of furniture. As shown above, Brazo Woven Deep Seating features a durable aluminum frame, hand-woven TropiKane® panels, faux-wood arm caps, and plush RELAXplus® cushions. These pieces are exemplary examples of uniting different materials in outdoor furniture.
Tropitone® Collections such as Shoreline and MainSail feature fewer materials, if you prefer a simpler design. Like Shoreline Woven Seating, many of our woven collections combine aluminum frames with woven seats. Pair these dining sets with an aluminum table for a cohesive outdoor space, or pair with our new Madera and Parson table combinations for a patio with visual interest. Deep seating options allow you to add a splash of color or texture with your choice of fabric for the cushions. 
Colorful fabric is just one way to customize your Tropitone® Furniture. All of our aluminum frames come in your choice of 18 finishes. Most of our weaves have at least two finish options. Did you decide on Brazo? If so, those faux-wood arm caps are available in three finishes. Wish so many options, you can create a unique outdoor space that reflects your personality.