Elevate Your Yard's Design – 12 Ideas
Next level elements landscape designers and contractors are using.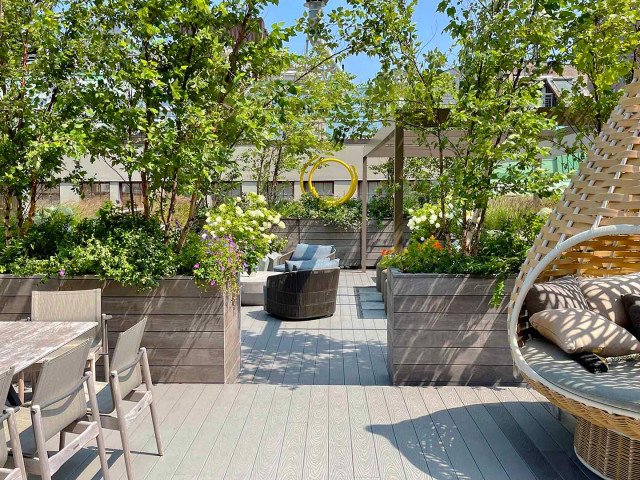 Todd Haiman Landscape Design
1. Functionality
It's essential for your landscape design to serve your needs and lifestyle, no matter how beautiful the plants and materials are. "Making a garden beautiful is easy," New York landscape designer Todd Haiman says. "The hard part is whether it can be functional and beautiful."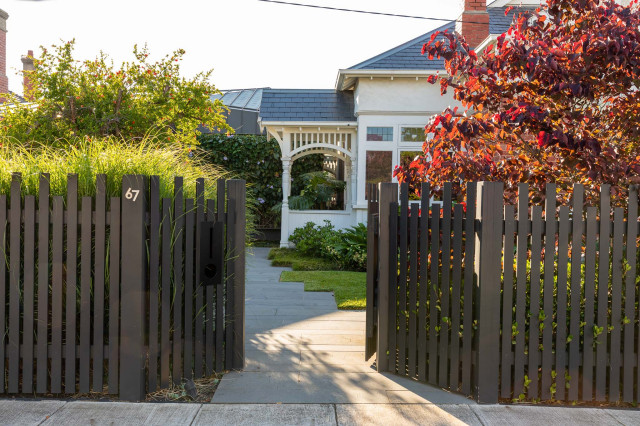 Ben Scott Garden Design
2. Signature Plant
Define a garden's style with a specimen plant or plants. "A signature plant can really create and amplify the landscape," Chicago landscape designer John Algozzini of Hursthouse says. "It will take the landscape up a notch without breaking the bank."
Algozzini often recommends high-profile specimen trees. "Choose a tree that provides exceptional contrast to the plants around it," he says. "It will work as the one red umbrella in a sea of gray umbrellas and stand out every time."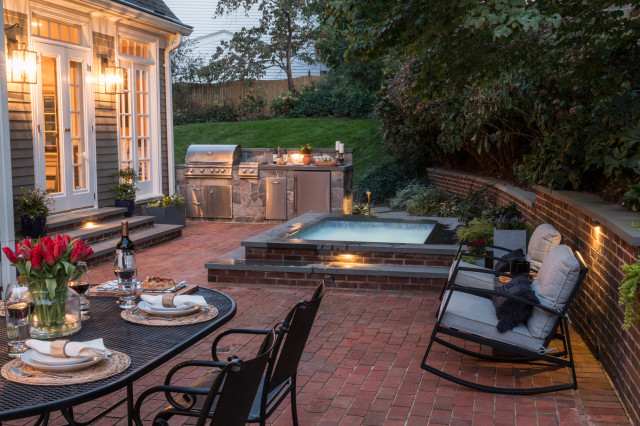 Landed
3. Effective Lighting
A well-thought-out lighting scheme will allow homeowners to enjoy their outdoor space at night. "It's sometimes the last thing people think about, but effective landscape lighting provides the right accents, pulls the design together and elevates any outdoor space," says Kara Gorski of Landed in Alexandria, Virginia.
For Robin Parsons, owner of Spring Greenworks in Kirkland, Washington, lighting also plays an important role in any landscape. "It creates an ambiance that draws people in and truly elevates the outdoor experience," she says.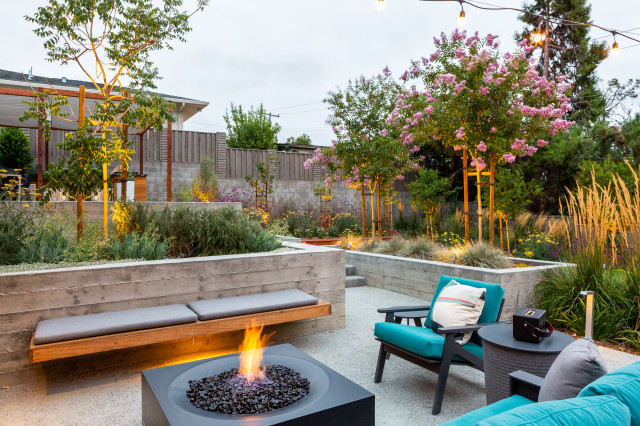 Blue Sierra Landscape Construction
Landscape designer Daren Langhorne of Core Outdoor Living in Clifton, Virginia, places wall lights under benches and counters for subtle lighting that won't overwhelm the space. "Add three under-capstone lights to a sitting wall, and now you have a great feature at night," he says.
Langhorne recommends choosing low-voltage lights connected to a photosensitive transformer that can automatically turn them on and off. "An often-overlooked advantage of the wall lights is increased security," he says, referring to how they can help deter unwanted intruders.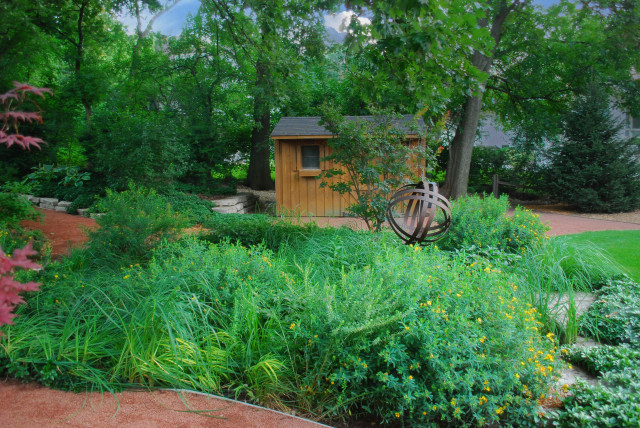 Hursthouse
4. Sculptural Element

Algozzini also recommends adding a sculptural element to create a singular focal point. "It can thrive on a stand-alone basis in a planting bed, patio or lawn and elevate a landscape design," he says. He adds that the key is to make sure that the piece is accurately scaled to its space, providing maximum impact.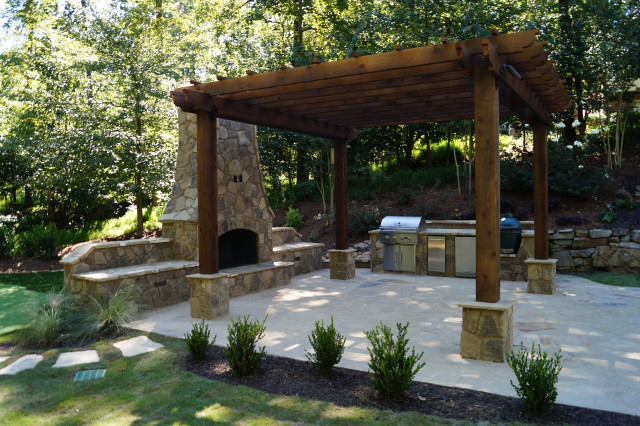 ARNOLD Masonry & Landscape
5. Outdoor Fire Feature
An outdoor fireplace is the most-requested item at Arnold Masonry & Landscape in Atlanta. "People are obviously attracted to a fireplace," says owner Scott Arnold. Many are looking to bring family and friends together or have a romantic, peaceful evening enjoying the wonderful outdoors. Arnold adds that the chimney is often the focal point of the fireplace and should be created with that in mind.
Parsons shares another benefit of fire features. "They create hygge, the Scandinavian word for coziness and conviviality," she says.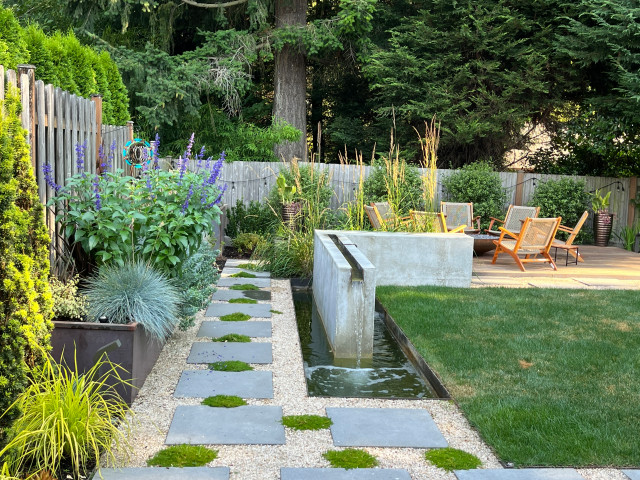 Spring Greenworks
6. Auditory Appeal

Add elements that create pleasant sounds — perhaps gently running water or a soft wind chime — to appeal to more than just the visual sense. "Sound is always a great way to ramp up a landscape," Algozzini says.
Algozzini and Parsons both recommend water features for a variety of reasons. "Water features can add tranquility and calm," Parson says. Algozzini says that "a well-sited fountain provides soothing tones in the landscape and a strong visual as well."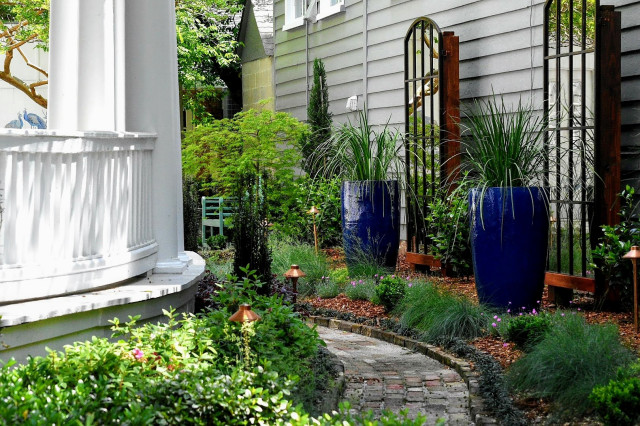 Linda Greenberg Landscape & Design, LLC
7. Oversize Planters

Don't be afraid think big when it comes to planters.  Linda Greenberg, a landscape designer in Charleston, South Carolina, uses oversize containers to add impact to her designs. "I love to fill them with an array of spectacular and colorful plants, textures and forms," she says. "Both evergreen and seasonal color create quite an impression."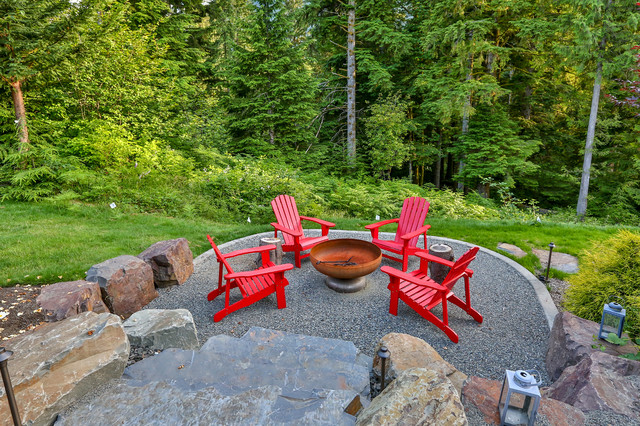 Alderwood Landscape Architecture and Construction
8. Dash of Color
Greenberg also recommends adding a bright color in the form of a bench or other small structure. "A strategically placed unique element, maybe painted in a bright blue or red lacquer, will add a touch of whimsy," she says. "The pop of color is typically unexpected and will connect the colors of the interiors to the outdoors."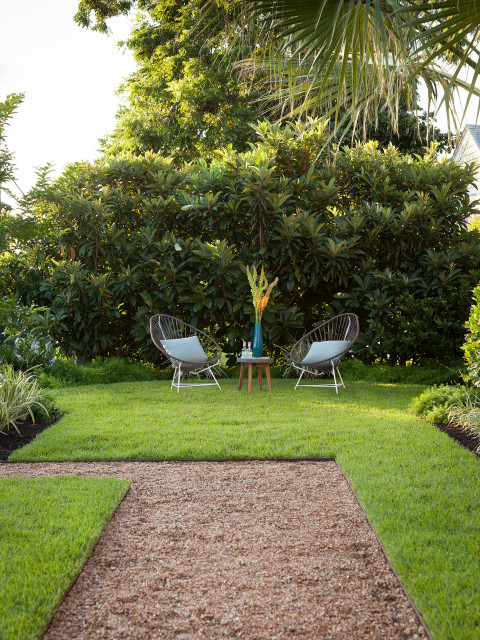 B. Jane Gardens
9. Sense of Enclosure
Landscape designer Laurie Van Zandt, who owns The Ardent Gardener Landscape Design in Huntsville, Utah, suggests creating an intimate area within the larger landscape. "You can feel almost enclosed and safe," she says. The trick, she says, is to create a space that feels comfortable for just two people but that could also expand to accommodate larger groups.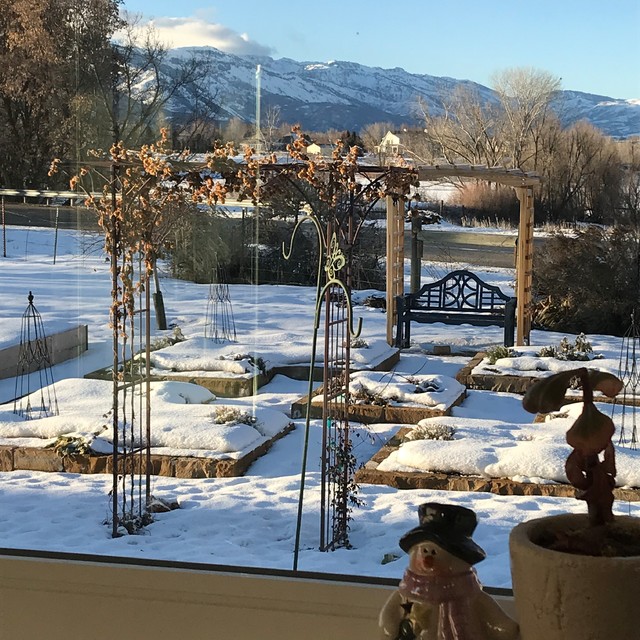 The Ardent Gardener Landscape Design
10. View for All Seasons

Van Zandt also encourages homeowners to create connections with their gardens for the months when they can't be outside. "You can add plants with winter berries and beautiful bark, [as well as] structures such as arbors and trellises and art," she says. She also keeps rockers with wool blankets on her front porch for enjoying decent winter days outside.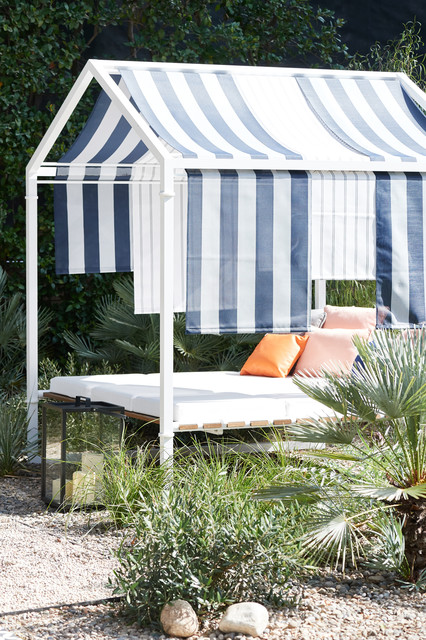 June Scott Design
11. Great Outdoor Furniture
Don't overlook the importance of choosing the right outdoor furniture. "It can often be an afterthought, but we find it can really make or break a space," says Los Angeles landscape architect June Scott.  High-quality outdoor furniture often costs more than lower-quality pieces, but its longevity and ability to withstand weather can help you enjoy your yard for years to come.
Choosing great patio furniture is a way to showcase personal style too. "Outdoor furniture options are much more customized now," Parsons says. You can find everything from new, high-end hardwood pieces to retro, repurposed and vintage ones.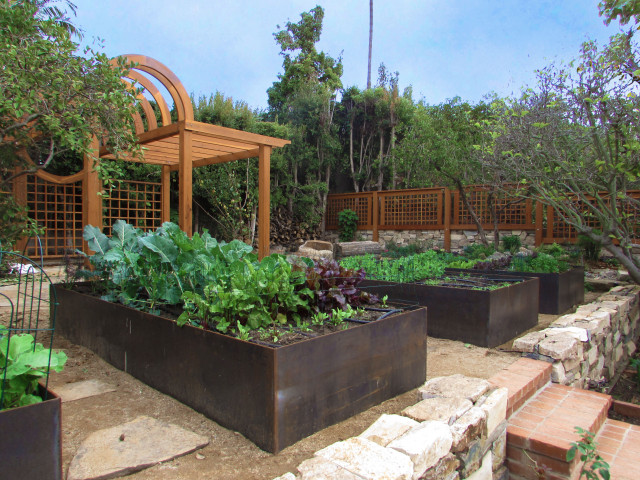 Urban Oasis Landscape Design
12. Personal Touches
Along with patio furniture and plantings, add small elements that show personal style and reflect who your clients are. A yard "should be a space where you become enthusiastic, from a love of gardening or entertaining or growing food or creating a wildlife habitat," says Los Angeles landscape designer Deborah Gliksman of Urban Oasis Landscape & Design.
Credit: Marianne Lipanovich (Houzz)